Stryve Foods, Inc. Announces Special Promotion in Partnership with Folds of Honor for July 4th Celebrations
PLANO, Texas, June 12, 2023 (GLOBE NEWSWIRE) -- Stryve Foods, Inc. ("Stryve" or "the Company") (NASDAQ: SNAX), an emerging healthy snack and eating platform disrupting traditional consumer packaged goods (CPG) categories, and a leader in the air-dried meat snack industry in the United States, is excited to announce a special promotion in partnership with Folds of Honor, a non-profit organization dedicated to supporting the families of fallen and disabled American military service members. This initiative celebrates the spirit of American patriotism and honors sacrifices made by our brave men and women in uniform around all July 4th celebrations.

As part of this special promotion, Stryve Foods will donate 10% of net sales proceeds from Stryve.com through July 4th to Folds of Honor, which helps provide educational scholarships to the spouses and children of fallen or disabled veterans. Stryve Foods has always been committed to giving back to the community and supporting those who have served our country, and this collaboration with Folds of Honor is a testament to that commitment.
To further engage and inspire consumers to participate in this worthy cause, Stryve Foods with introduce a specially themed Patriot Pack of its popular original thinly sliced steak and new steak bites snack products. These striking red, white and blue packages will feature patriotic designs that remind consumers of the importance of honoring our military heroes, while enjoying their favorite snacks during the July 4th festivities. Additionally, the packaging will include information about our partnership with Folds of Honor.
"Stryve Foods is proud to partner with Folds of Honor for this special promotion," said Chris Boever, Chief Executive Officer of Stryve Foods. "We believe it is our duty to support the families of our fallen and disabled service members, and this collaboration allows us to make a meaningful impact in their lives. We invite our customers to join us in showing gratitude and giving back to those who have made extreme sacrifices for our freedom."
Consumers can participate in the promotion by purchasing specially marked Stryve Foods products through the Company's website. By doing so, they will not only enjoy delicious, high-protein snacks but also contribute to the cause of providing educational opportunities to the families of America's miliary heroes.
For more information about Stryve Foods and this special July 4th promotion with Folds of Honor, please visit stryve.com. Join us in honoring our nation's heroes and making a difference in the lives of their loved ones.
About Stryve Foods, Inc.
Stryve is a premium air-dried meat snack company that is conquering the intersection of high protein, great taste, and health under the brands of Braaitime, Kalahari, Stryve, and Vacadillos is a healthy snacking and food company that manufactures, markets and sells highly differentiated healthy snacking and food products that is planned to disrupt traditional snacking and CPG categories. Stryve's mission is "to help Americans eat better and live happier, better lives." Stryve offers convenient products that are lower in sugar and carbohydrates and higher in protein than other snacks and foods. Stryve's current product portfolio consists primarily of air-dried meat snack products marketed under the Stryve®, Kalahari®, Braaitime®, and Vacadillos® brand names. Unlike beef jerky, Stryve's all-natural air-dried meat snack products are made of beef and spices, are never cooked, contain zero grams of sugar*, and are free of monosodium glutamate (MSG), gluten, nitrates, nitrites, and preservatives. As a result, Stryve's products are Keto and Paleo diet friendly. Further, based on protein density and sugar content, Stryve believes that its air-dried meat snack products are some of the healthiest shelf-stable snacks available today. Stryve also markets and sells human-grade pet treats under the brand Two Tails, made with simple, all-natural ingredients and 100% real beef with no fillers, preservatives, or by-products.
Stryve distributes its products in major retail channels, primarily in North America, including grocery, club stores and other retail outlets, as well as directly to consumers through its ecommerce websites and through the Amazon platform. For more information about Stryve, visit www.stryve.com or follow us on social media at @stryvebiltong.
* All Stryve air-dried products contain zero grams of added sugar, with the exception of the Chipotle Honey flavor of Vacadillos, which contains one gram of sugar per serving.
About Folds of Honor
Folds of Honor is a 501 (c) (3) nonprofit organization dedicated to providing educational scholarships to the spouses and children of America's fallen and disabled service members. Since its inception in 2007, Folds of Honor has awarded over 29,000 scholarships and strives to ensure that no family is left behind in their pursuit of education.
Investor Relations Contact:
Three Part Advisors, LLC
Sandy Martin or Phillip Kupper
smartin@threepa.com or pkupper@threepa.com
214-616-2207 or 817-368-2556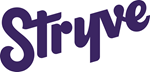 Source: Stryve Foods, Inc.

Released June 12, 2023